PENTECOST
This month, we shall also be celebrating the Feast of the Ascension of the Lord and Pentecost. Ascension is the fortieth day of Easter and commemorates Jesus Christs' ascension into heaven, where he returned to his Father. Jesus promised to send his spirit, the Holy Spirit, to be with his Apostles, to help them to remember and to understand all that he had taught them. Pentecost is ten days later and is a festival where we celebrate the gift of the Holy Spirit. The Holy Spirit is the third part of the Trinity of Father, Son and Holy Spirit. Symbols of Pentecost include flames, wind and a dove.
In school, we are holding a liturgy, followed by a Pentecost picnic in our Prayer Garden and the children are invited to wear red clothes – the colour that symbolises Pentecost. Parents are warmly invited to join us for the liturgy and picnic.
MONTH OF MAY
May is a special month, as it's the month of Mary, our Mother.
"God wills that all his gifts should come to us through Mary" - St. Bernard.
As Catholics, we want to be close to Mary always, offer her special presents in May: pilgrimages, visits to churches dedicated to her, little sacrifices in her honour, periods of study and well-finished work offered up to her, and a more attentive recitation of the rosary.
In school, we had a May Day Procession, where the children were invited to bring flowers or a plant to go into our Prayer Garden. Year 6 children were presented with their Miraculous Medals. We prayed for these children, who were taking their SATs the following week.
Lent 2019
For the start of Lent, the whole school attended the Ash Wednesday Mass at St Cuthbert's Church. During Lent, Jesus asks us to look at our own lives and to think about what is in our hearts.
In the Gospel, Jesus told the parable of the fruit tree that only bears good fruit. In the parable, the fruit tree is a symbol of our hearts and the fruit that grows on it is our good thoughts and actions. Just like, only good trees bear good fruit, so only good actions come from people who are good in their hearts. If a good tree is strong, healthy, well-watered and fed, our good hearts are made strong
and healthy by trying to live as Jesus asks us to do.
Pupils have been asked to think about the good actions and thoughts that should be in our heart. We pray that we might grow to be more like Jesus through these.
ADVENT
Advent is the first season in the church year. It is the period of time immediately before Christmas, when Christians get ready to celebrate Jesus' birth. It begins four Sundays before Christmas and ends with Christmas Day itself. The word 'advent' means 'coming'. It is a period to reflect on God's coming to earth. During this time Christians remember when God came 2000 years ago in the person of Jesus, but also to look forward to a time when He will come again.
During worship, the children were asked, 'Are you ready for Jesus?' The children reflected on how they could get ready this Advent to prepare a space in their hearts. Everyone thought about how they could be kind to others, more helpful at home and how they could pray more.
Pentecost
On Friday 18th May the whole school community came together to celebrate the Feast of Pentecost. The school was a blaze of colour with children and adults alike wearing red.
Pentecost is an important event in the Christian calendar celebrating Christ's ascension and the coming of the Holy Spirit. On that day the church was born and over 3,000 people joined the followers of Jesus. In the gospel we heard how the Holy Spirit came among the disciples as a strong wind and flames of fire and how the disciples were filled with the Holy Spirit giving them the gift of speaking other languages. The children sang happy birthday to the Church before going out into the Prayer Garden to have a picnic lunch with their friends and families. The sun shone down on us and it was lovely to be
joined by so many parents. In Monday's whole school Worship we revisited the story of Pentecost and learnt about the lives of men
May is a special month, as it's the
month of Mary, our Mother.
"God wills that all his gifts should come to us through Mary" - St. Bernard.
As Catholics, we want to be close to Mary always, offer her special presents in May: pilgrimages, visits to churches dedicated to her, little sacrifices in her honour, periods of study and well-finished work offered up to her, and a more attentive recitation of the rosary.
On Friday 11th May 2018 we held our traditional May Procession and presented our Year 6 children with their
Miraculous Medals. It was a beautiful occasion particularly as this year we were able to hold the
entire event outside in our new Jubilee Prayer Garden. A big thank you for all the wonderful
flowers and plants.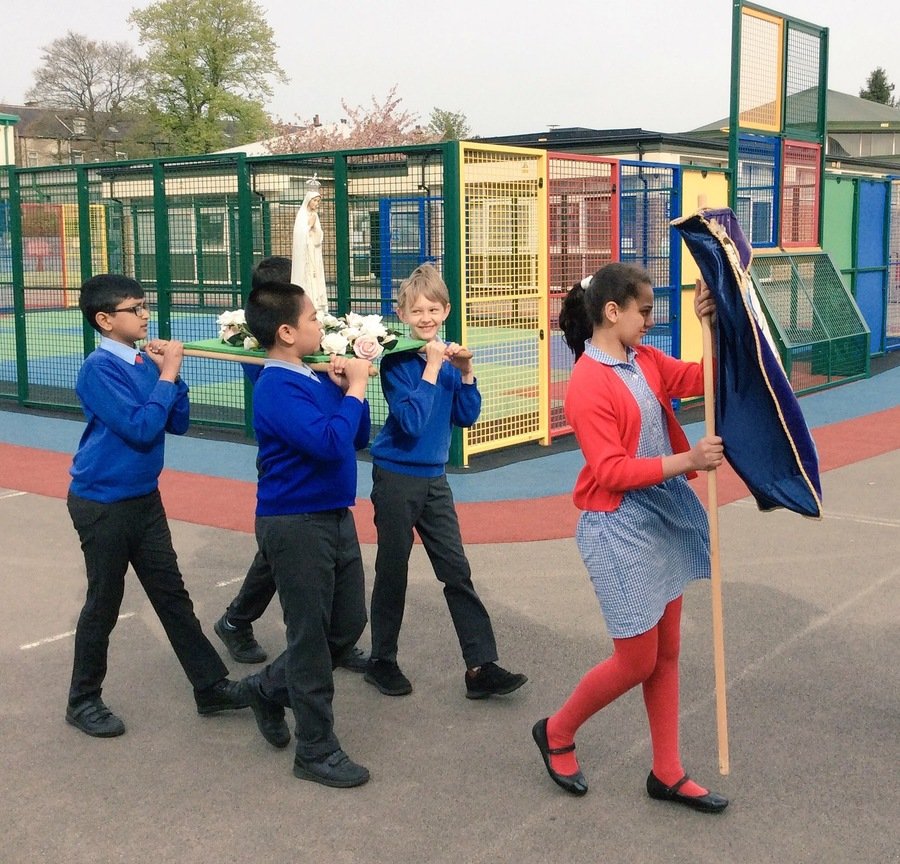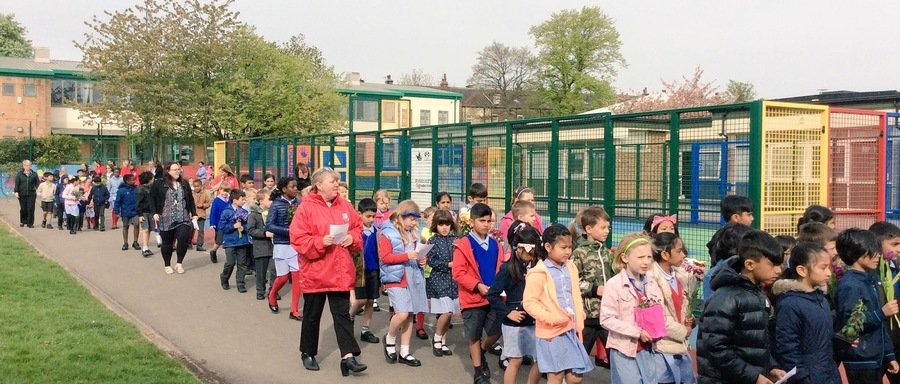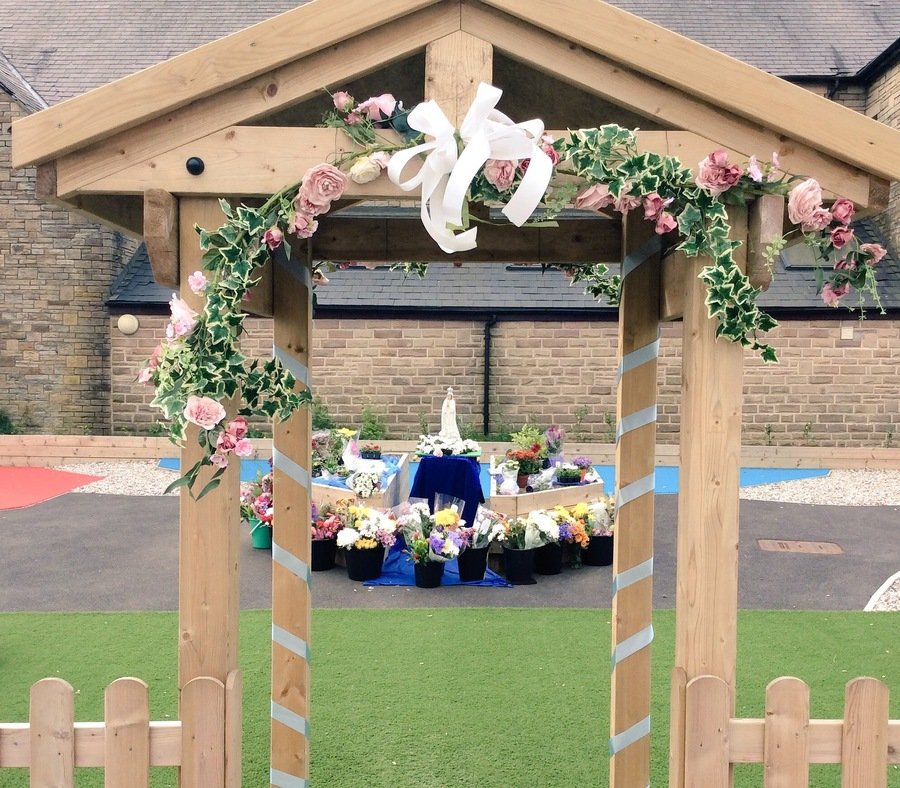 ADVENT 2017
As Advent begins, we reflect upon how we ready ourselves for Jesus' coming. This week, each class presented their Advent wreath in worship. The wreath is a Christian tradition, that symbolises the passage of the four weeks of Advent. Each Sunday another candle is lit and this shows us that His coming is drawing closer. The circular shape of the wreath, without beginning or end, represents God's complete and never-ending love for us.
In school, during Advent, the children will prepare themselves by taking part in special worships, reflections and liturgies. This will allow the children to understand and enjoy what Christmas is really about.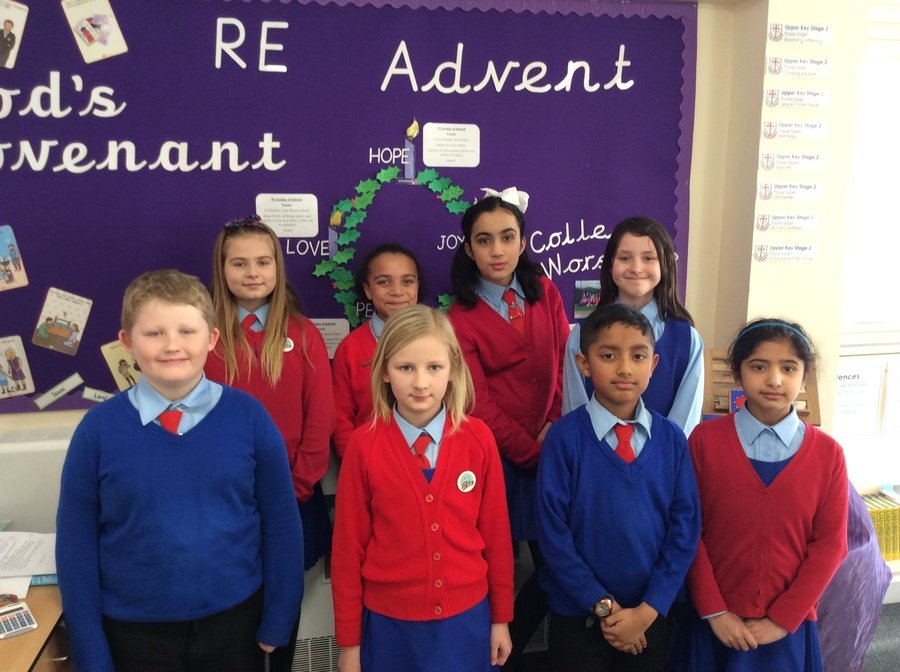 Lent 2017
The theme this year was 'Were you there?'
During Lent we explored the theme and journeyed with Jesus through the events of Holy Week.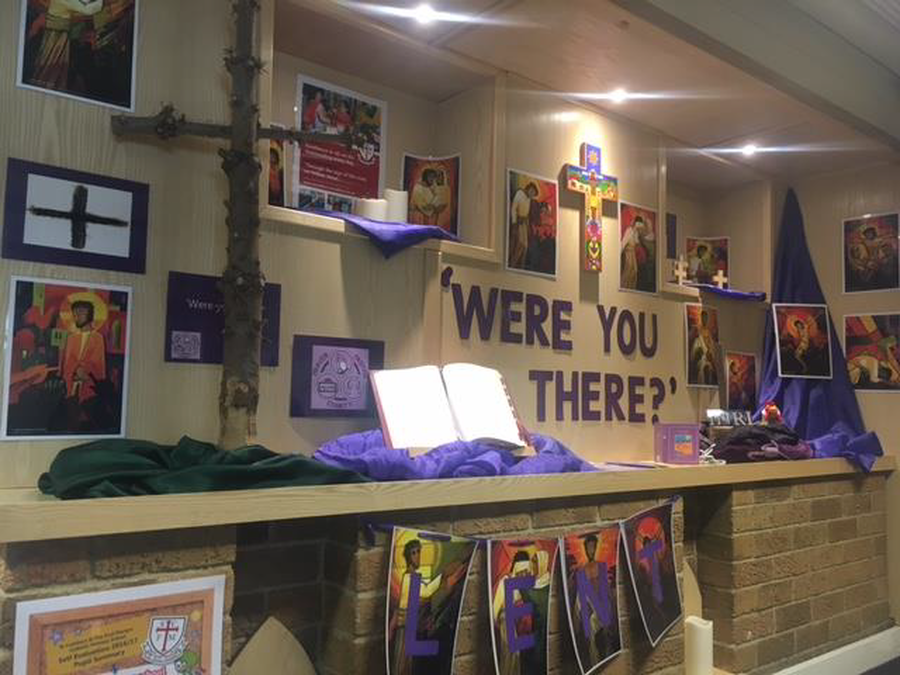 Year 1 held a Class Worship about Palm Sunday. Through role play, the children showed us how Jesus rode on a donkey to Jerusalem. The children shared pictures and waved palm leaves as Jesus rode past. The children spoke about the things they would have said to Jesus if he came into school today. They finished with a prayer to ask God to remind us to always be loyal to our friends.
Years 3 and 4 retold the story of The Last Supper and led us in thoughtful and reflective Stations of the Cross, reminding us of the events of Holy Week. As a school we took time to reflect on our Lenten theme 'Were you there?' and were asked to think how we had used our time during Lent to become more like Jesus..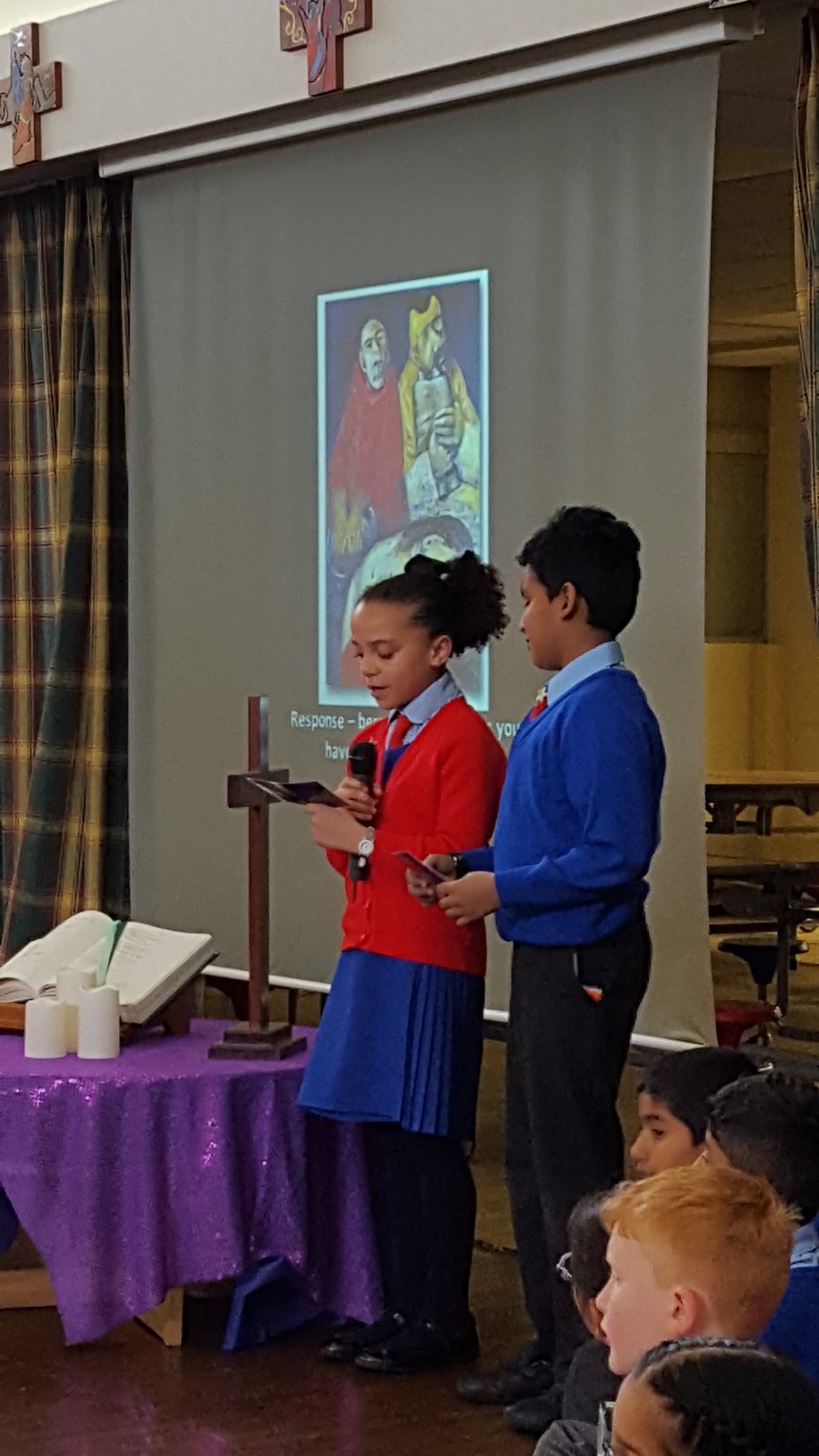 The Mini Vinnie's helped to organise our very successful fundraising events with a sponsored Good Shepherd Walk and toast on sale at playtimes. The children also responded generously to an extra non uniform day for CAFOD's East Africa Crisis Appeal too.
Father Gregory was a welcome visitor and came into school to lead us in Benediction and our Saying Sorry Liturgies for Ash Wednesday.
St Cuthbert's Feast Day
On Monday 20th March we celebrated St Cuthbert's Feast Day with Mass in school. St Cuthbert was born in Northumberland and lived more than 1300 years ago. For 53 years of his life he was a simple monk, an abbot of monasteries, a teacher, a missionary, for many year a recluse, and for a short time a Bishop. The humility, love and compassion that he shared with his community, along with the many centuries of devotion paid to him, mark him as one of the most loving and the most loved of English saints.
In our Mass we thought about the ways we could be great for God and be like the saints. The children said we should try to be kind and gentle, to put others first, to feed the hungry and help the poor. Year 5 read the Prayers of the Faithful reminding us of the saints, who like St Cuthbert, loved God and did what God asked them to do. We ended our Mass with the hymn 'For all the Saints...'
The children them went on to spent the day in class finding out more about the life of St Cuthbert.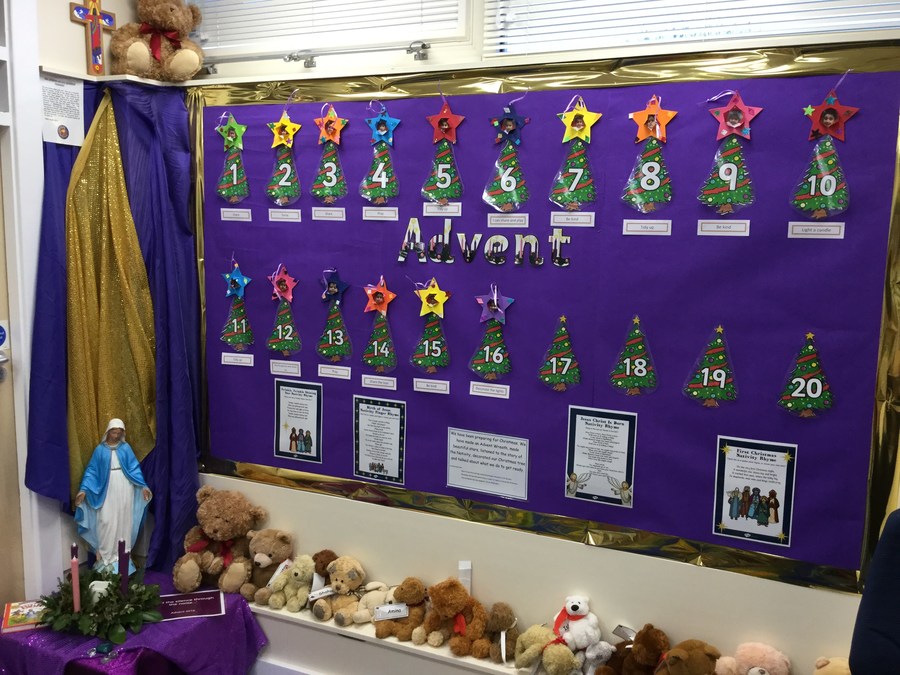 Advent 2016
Find the Silence through the Noise........
We have been preparing our hearts and minds and finding the silence throughout the noise during Advent. Thank you to all those families who have had the opportunity to take home our Travelling Cribs and have taken time at home to 'find the silence' this Advent.
Throughout Advent the children have taken part in and have help to lead special worships, reflections and liturgies that have helped to focus the whole community on the true meaning of Christmas.
Here are just a few of the many ways we made time for prayer and reflection.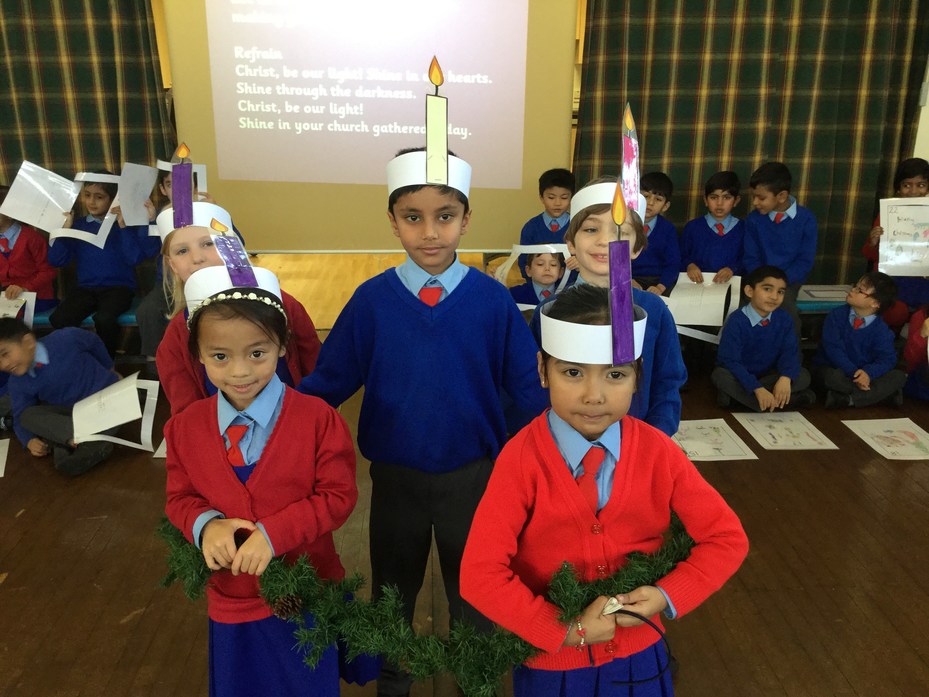 Year 2 Class Worship - The Meaning of the Advent Wreath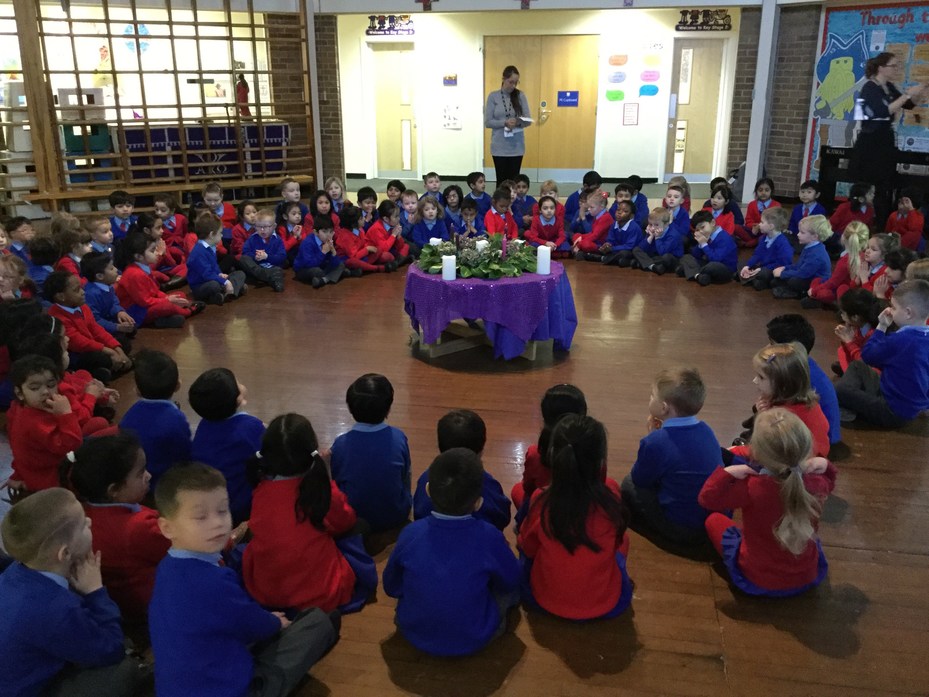 The Blessing of the Advent Wreaths by Father Gregory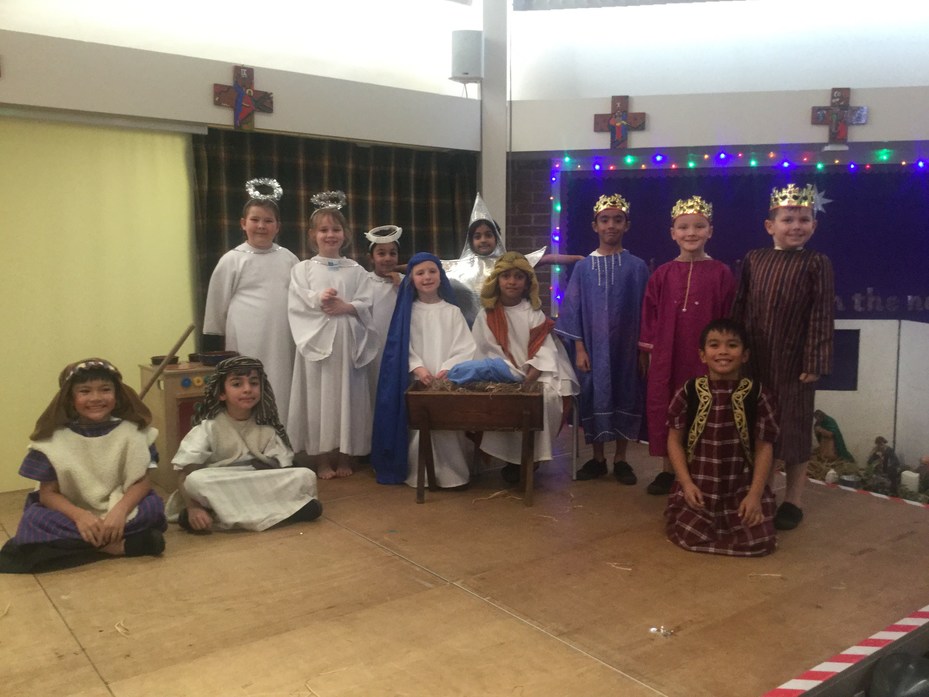 KS1 Nativity Dec 2016-The Innkeepers Breakfast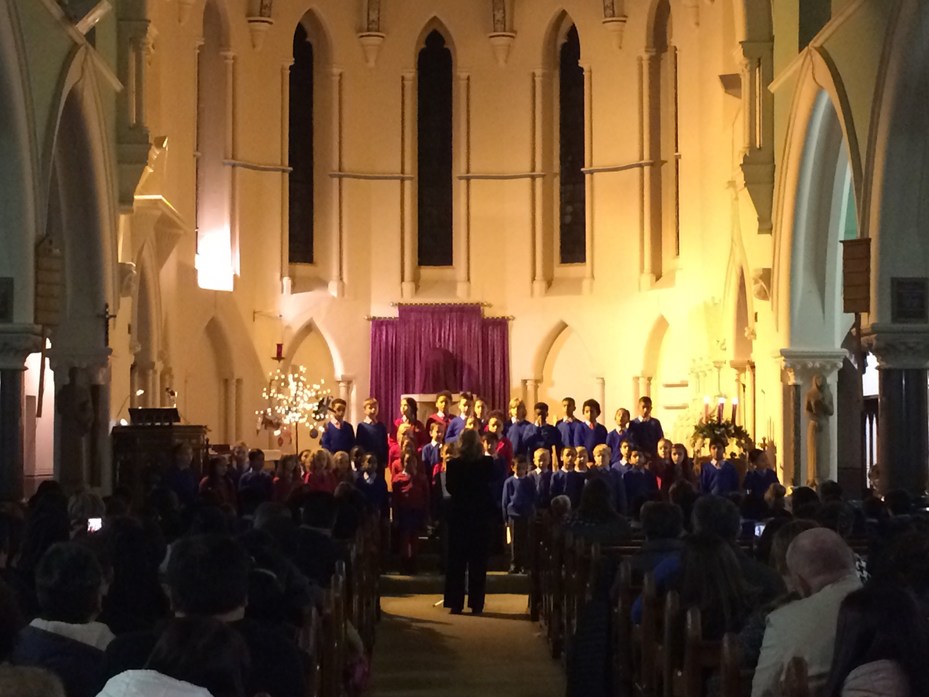 KS2 Carol Service at St Cuthbert's Church Dec 2016
In class activities and worship
Foundation Stage Role Play
The Extraordinary Jubilee of Mercy: Dec 8th 2015 – Nov 20th 2016
The Holy Year of Mercy celebrates being a witness of mercy and invites us all to follow the example of God our merciful and forgiving Father. Pope Francis marked the beginning of the year by opening the Holy Door at St Peter's in Rome and during Advent a Holy Door was opened by Bishop Marcus in St Anne's Cathedral in Leeds.To walk through a Holy Door is a sign that you want to change, to experience God's love and mercy which brings hope and joy.
In school each class has changed their classroom door into a door of Mercy and taken a Saint or Holy Person known for their Corporal Works of Mercy as their patron.
Our main entrance into the hall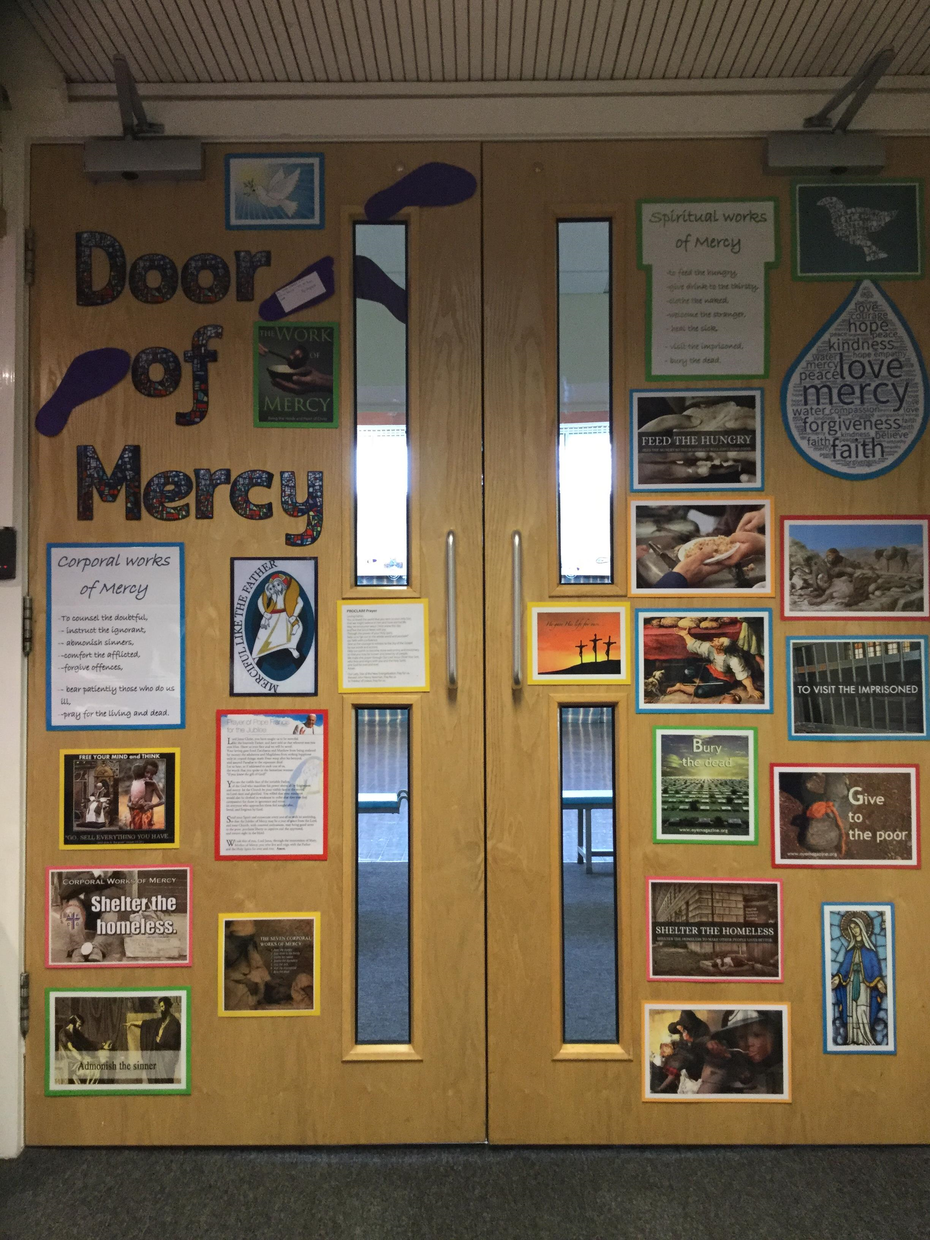 Foundation Stage:St Martin - Clothe the Naked Year 1:St John Bosco- Shelter the Homeless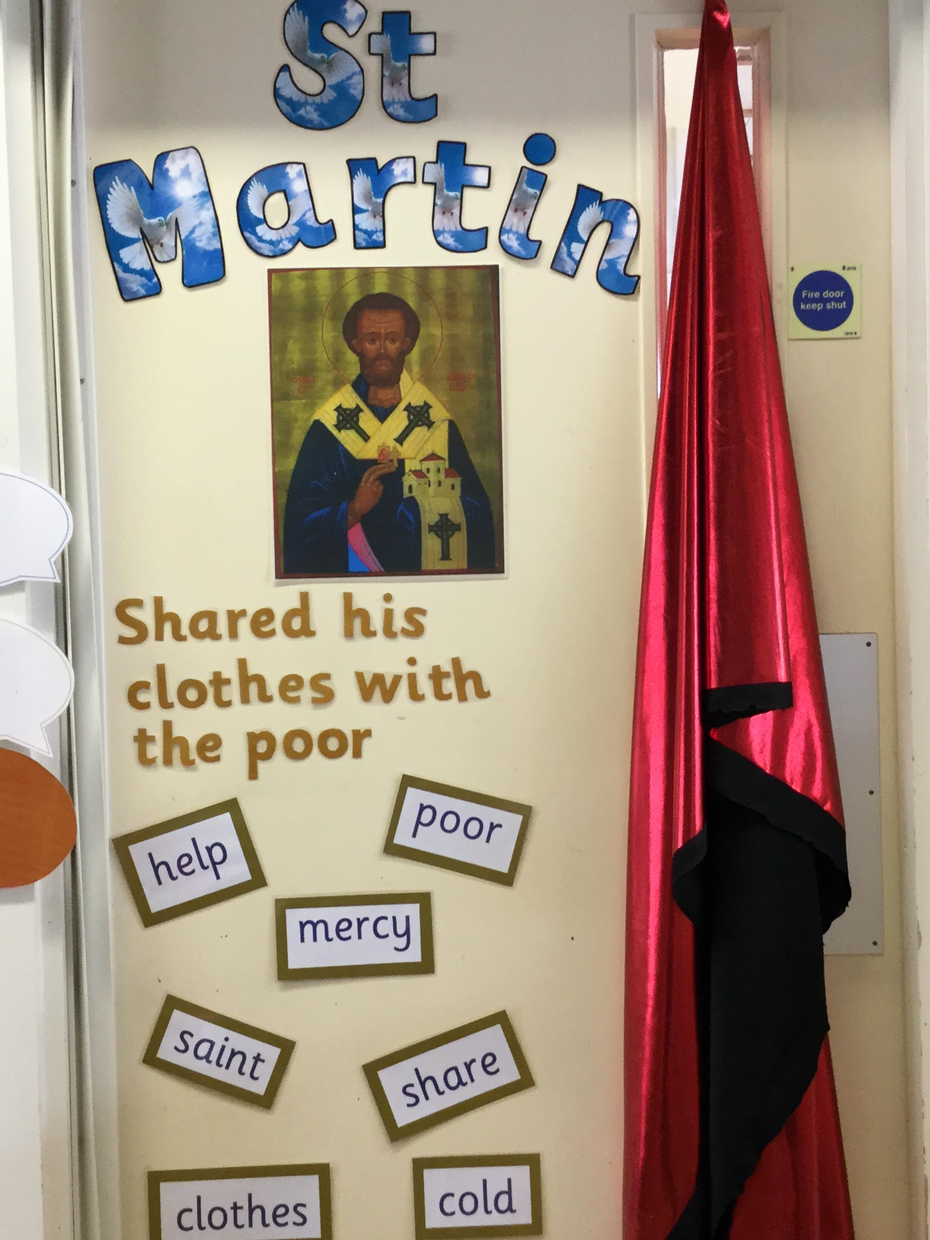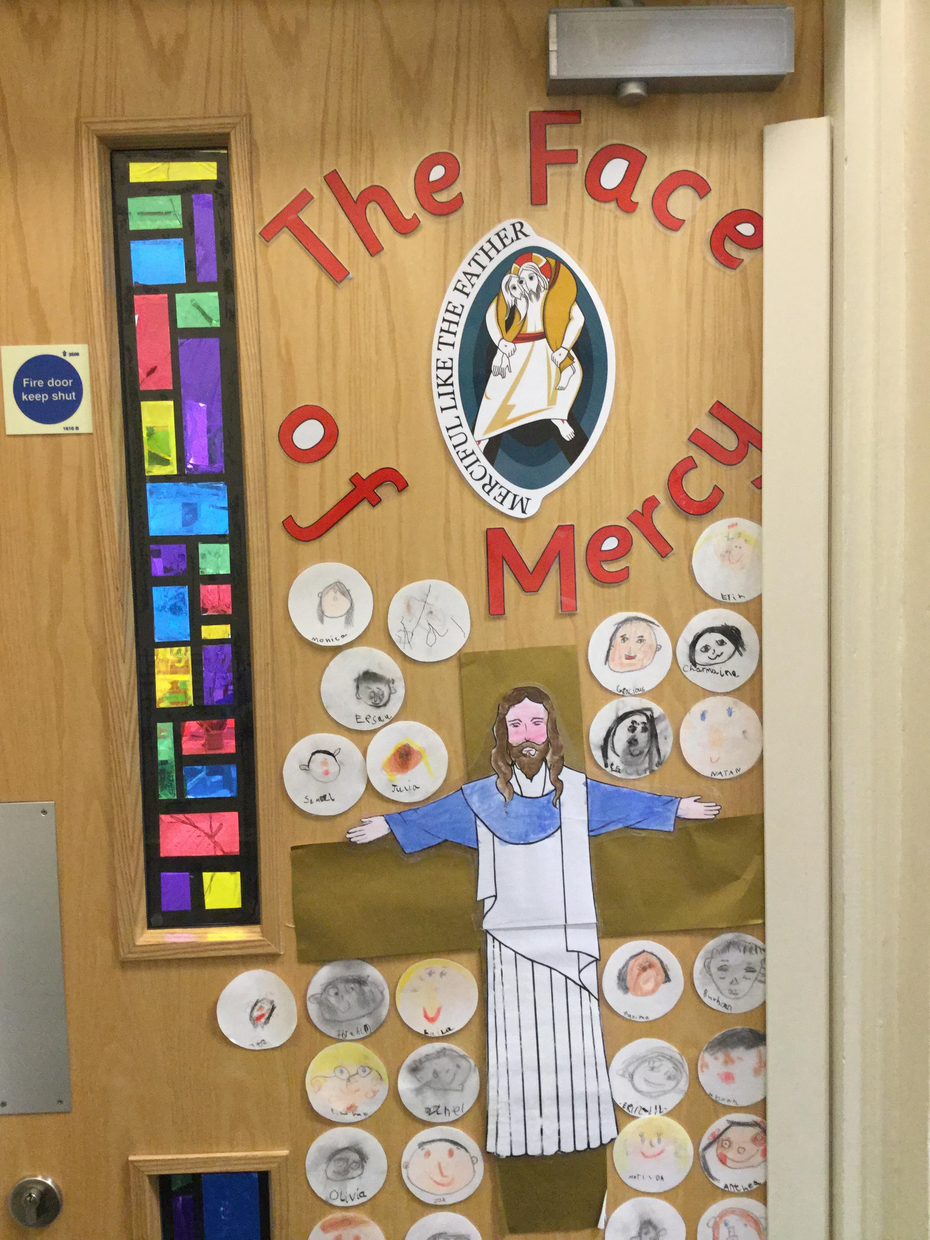 Year 2:St Vincent De Paul-Feed the Hungry Year 3:St Catherine of Sienna- Bury the Dead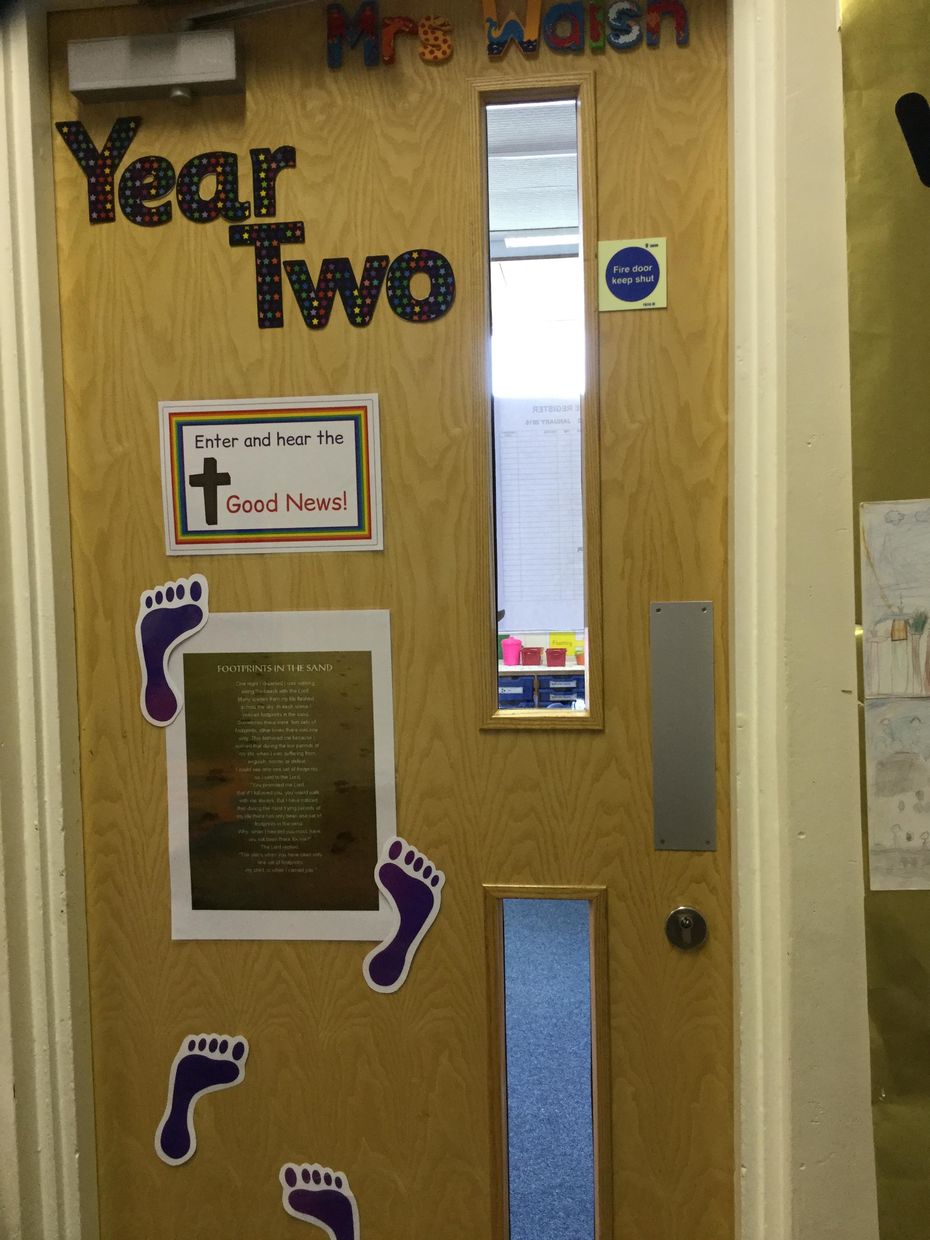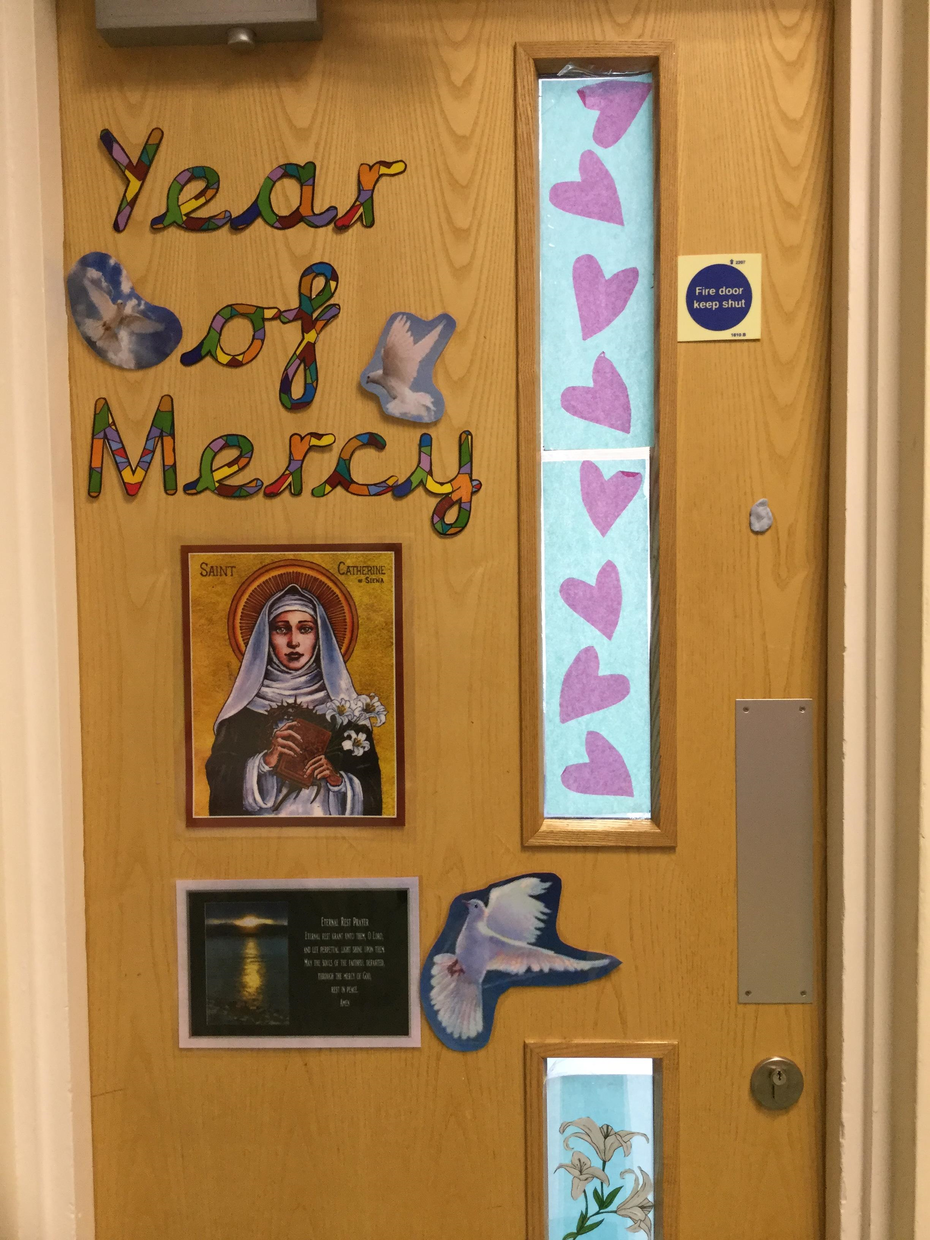 Year 4: Mother Teresa-Give Drink to the Thirsty Year 5:St Damien- Heal the Sick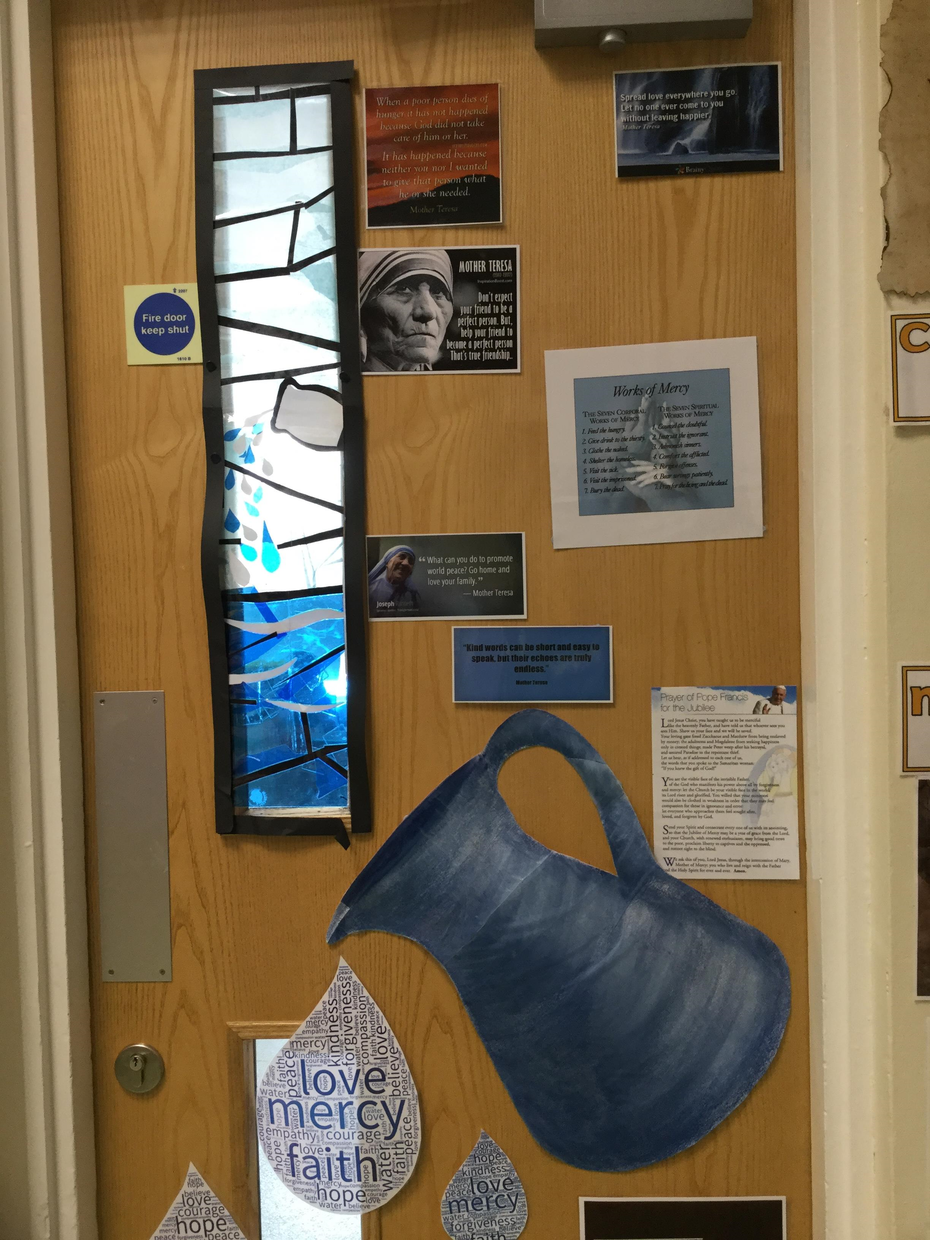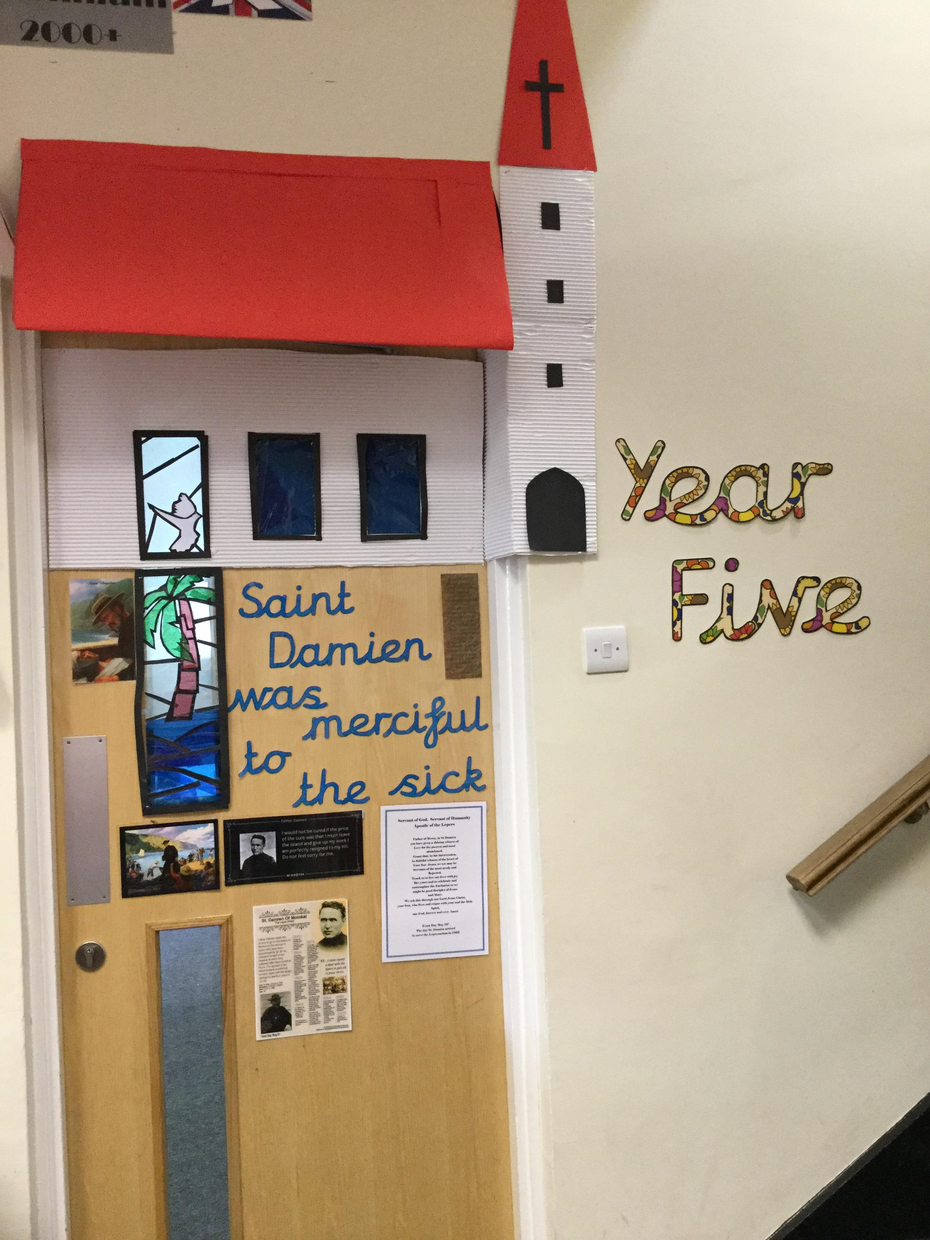 Year 6:St Leonard- Visit the Imprisoned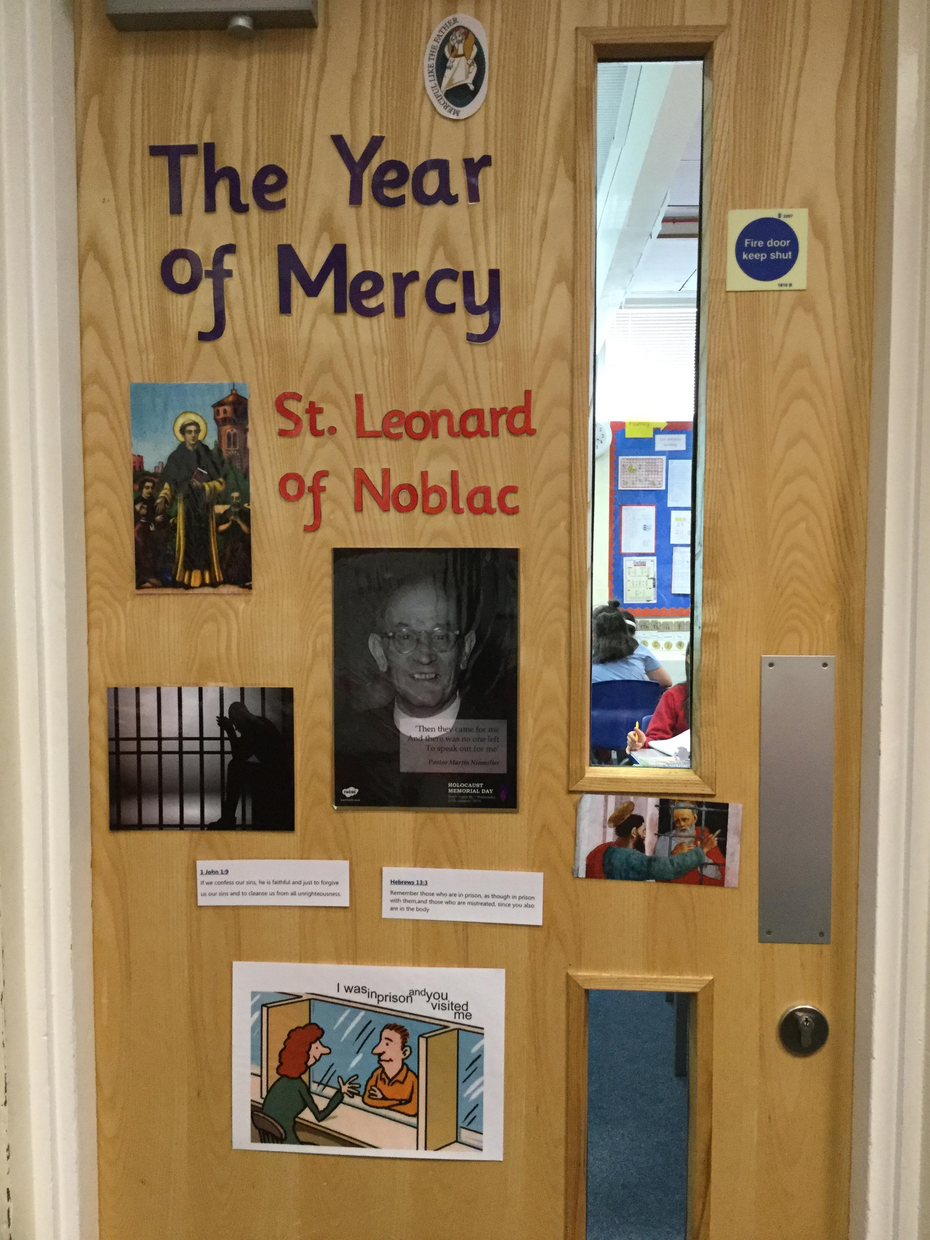 Collective Worship at St Cuthbert's
Each Monday we gather together for Whole School Worship to explore and reflect on the Sunday Gospel and the key events in the liturgical year. On Tuesday's we meet in Key Stages to focus on our Ethos Statements for the week. Each year group has the opportunity to lead and prepare their own collective worship in class on a Wednesday and parents are invited into Worship on Thursday's and Friday's when we share the children's learning and celebrate their God given talents.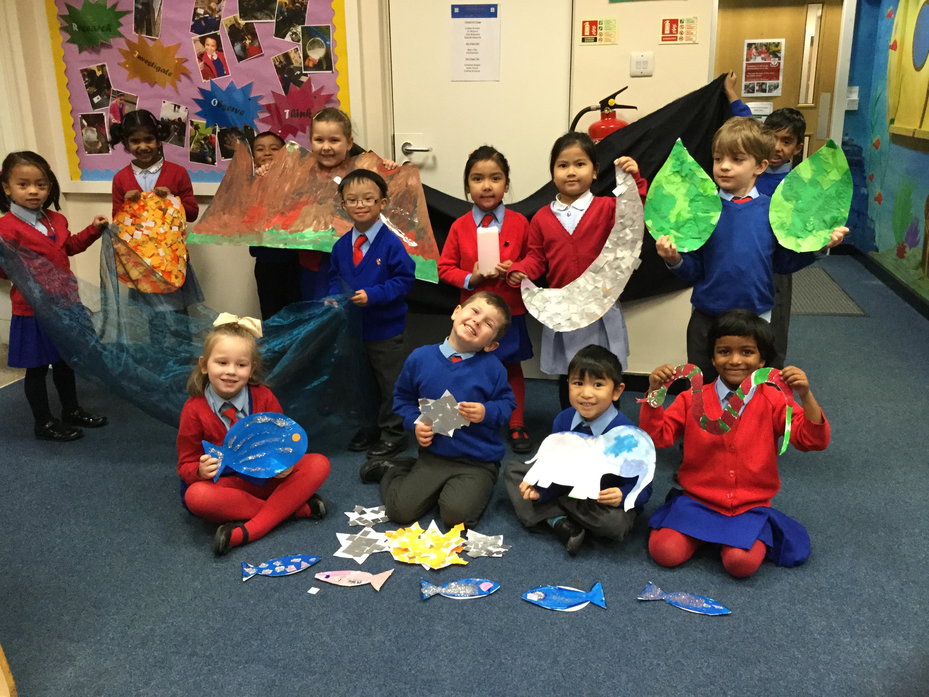 Year 1 Class Worship 'The Story of Creation'.
Every Wednesday morning, each year group has a class Collective Worship. The older children (Year 5 and Year 6), plan their own worships, whilst the the younger children plan their worships with the help of their teacher.
Attached is a copy of the planning template we use in school.
Here are a couple of photos from Year Five's Collective Worships.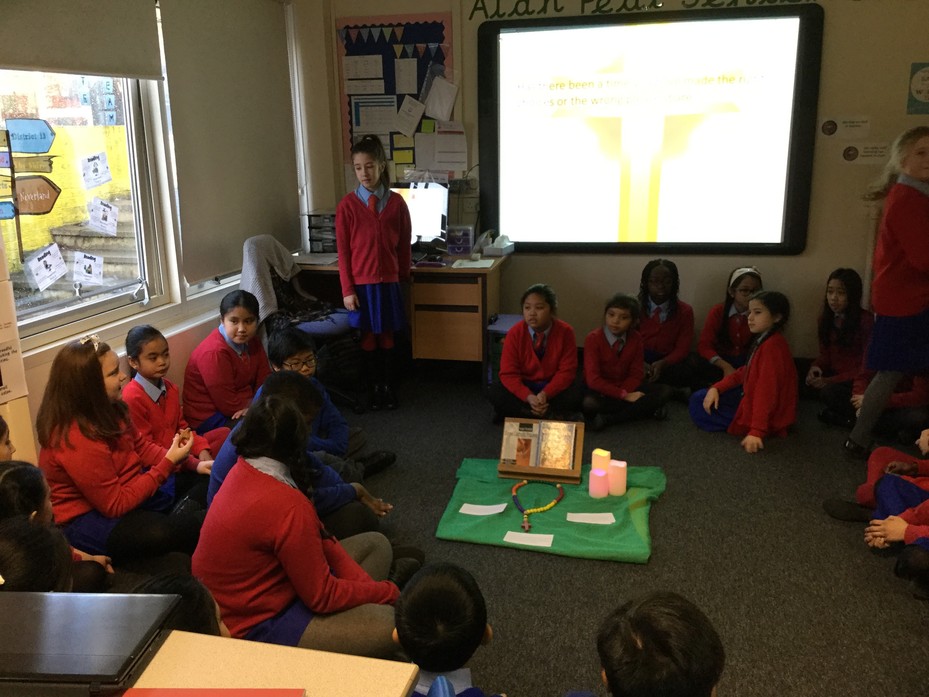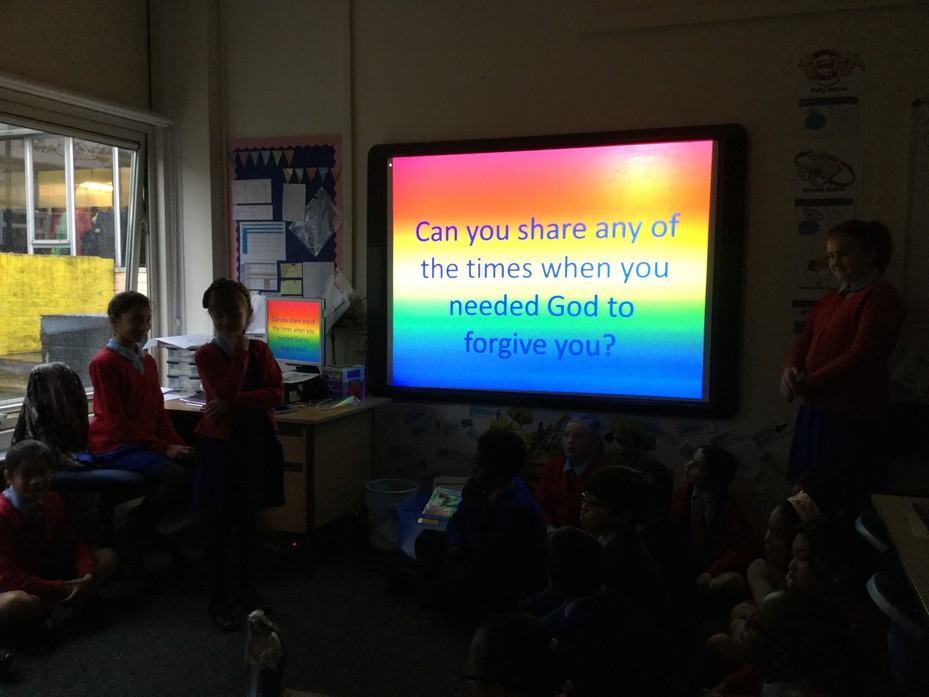 In school, our pupils are expected to learn a variety of prayers.
Each year group has prayer targets on display, so the children know what is expected of them.
Below is a copy of the prayer progression throughout our school.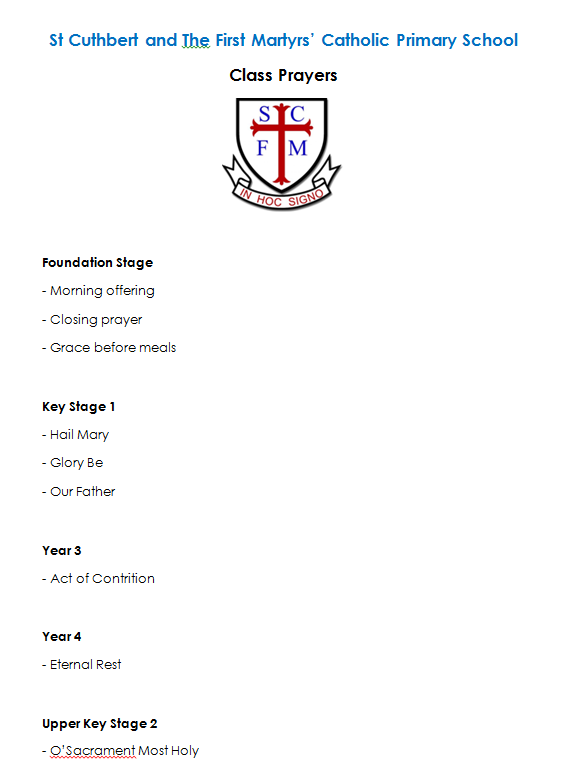 Each year group learns the same as in Foundation Stage, as well as the proceeding prayers,
up to and including their current year group.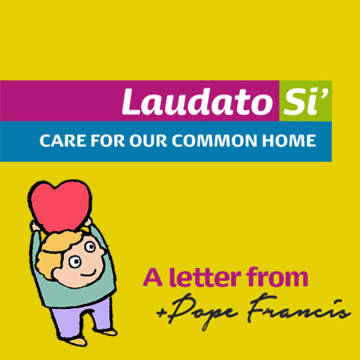 Laudato Si CSP Art Project
Pope Francis had written addressed to every person on this planet, asking us all to protect our common home… The Earth.
In this letter known as 'Laudato Si' Pope Francis explains that the earth is God's gift to us, full of beauty and wonder and it belongs to everyone. However, what we see today is that our common home has never been so hurt and mistreated. We have developed at a greater speed than we could have ever imagined and have treated the earth like it has an unlimited supply of resources.
Each class has taken part in an art project 'One God, One World' run by the Catholic Schools Partnership
that will become part of a travelling school/parish art exhibition.
Here is some of our work.......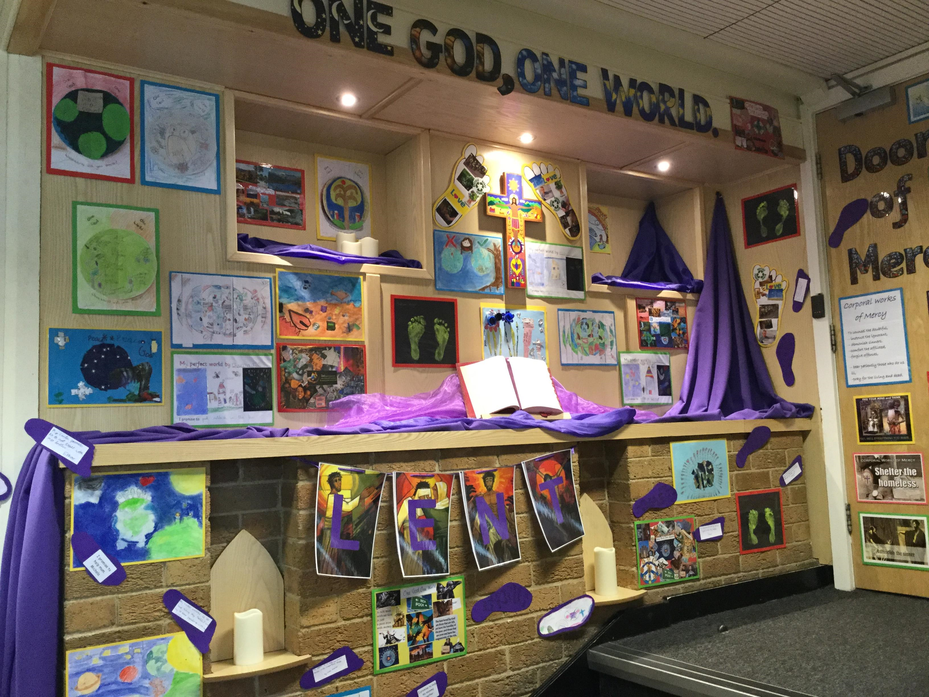 Helping the Community- Works of Charity
Thank you to all those who have donated so generously to our Advent charity 'The Gianna Project'. We were overwhelmed with baby items that were given directly to young mums and babies less fortunate than ourselves. Eileen, who runs the Gianna project from Catholic Care, came into school in the new year to thank our school community. Our school community will have made a significant difference to the lives of new born babies and young mums at this special time of year.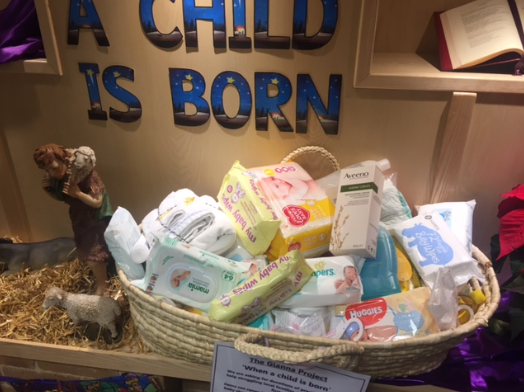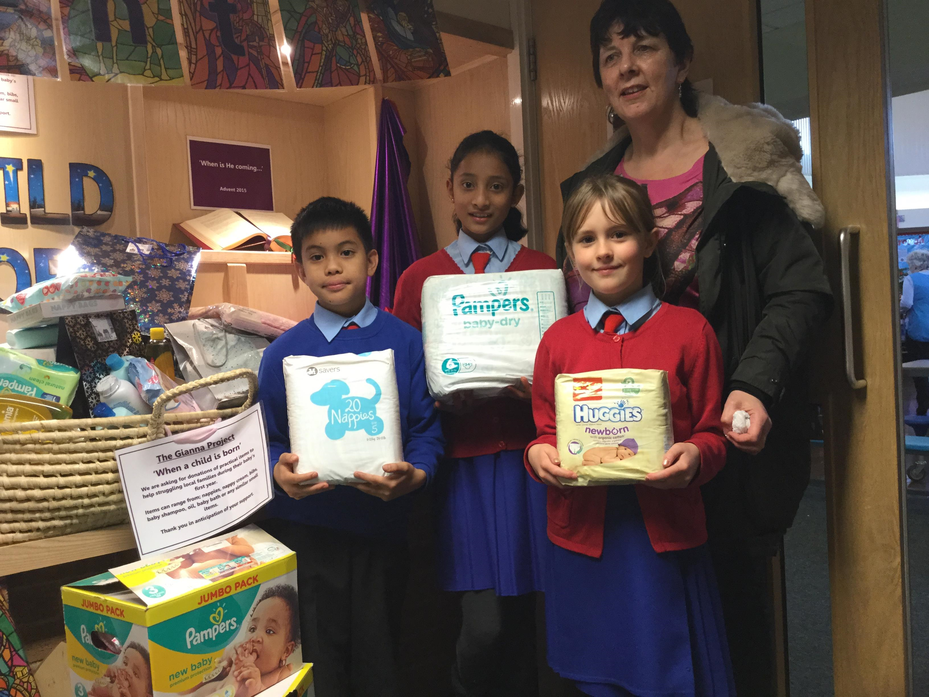 In December 2015 Rosie Walsh our piano teacher with the help of children from St Cuthbert's put on a charity fundraising musical concert for Water Aid. This concert helped to raise over £200 for the charity and Natasha from Water Aid visited school to thank the children for their support.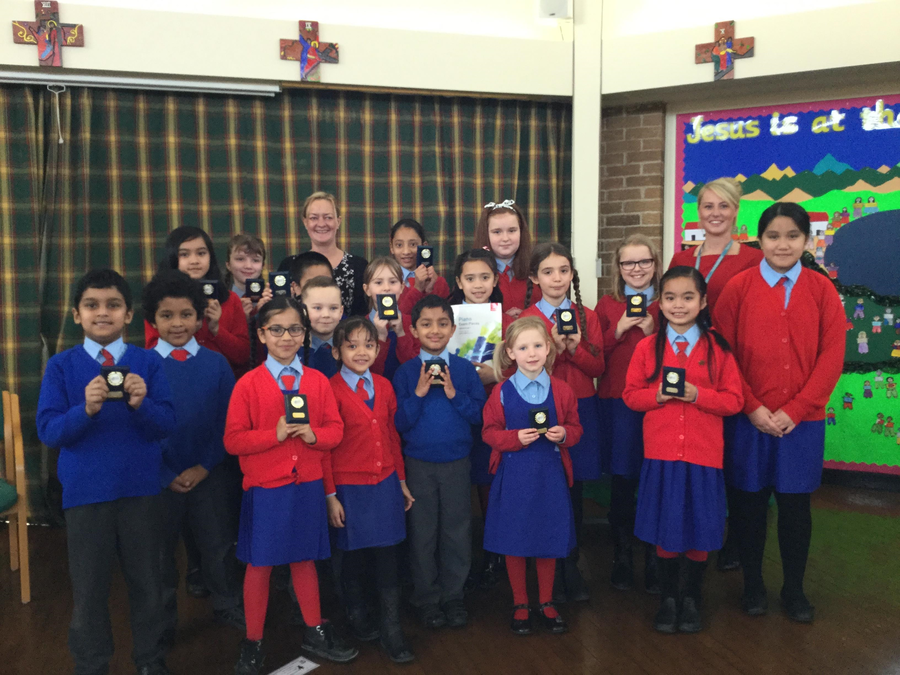 Lent - Showing Mercy, Showing Care, Showing Prayer
During Lent we support the Good Shepherd Appeal for Catholic Care and the work done by CAFOD.
In February 2016 we were visited by Mr Somerville from CAFOD who talked to us about this year's Lenten Project 'Make a Splash' and how the money we helped to raise would make a big difference to CAFOD in helping communities to gain access to clean water and so help to make a better future for children around the world. The children heard how children like themselves had to carry water for many miles a day.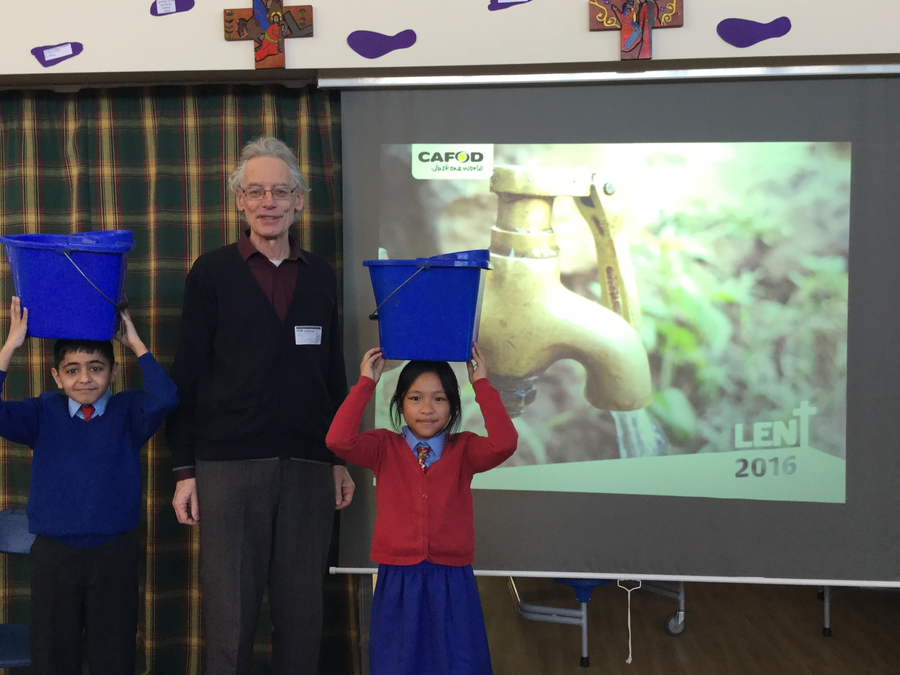 Holy Week
Years 3 and 4 led the school worship during Holy Week with the re-enacting of Palm Sunday and The Last Supper.
We ended our week of prayer and reflection with a powerful journey through the Stations of the Cross again beautifully and simply led by the children.
We were joined by parents , parishioners and governors for this moving worship.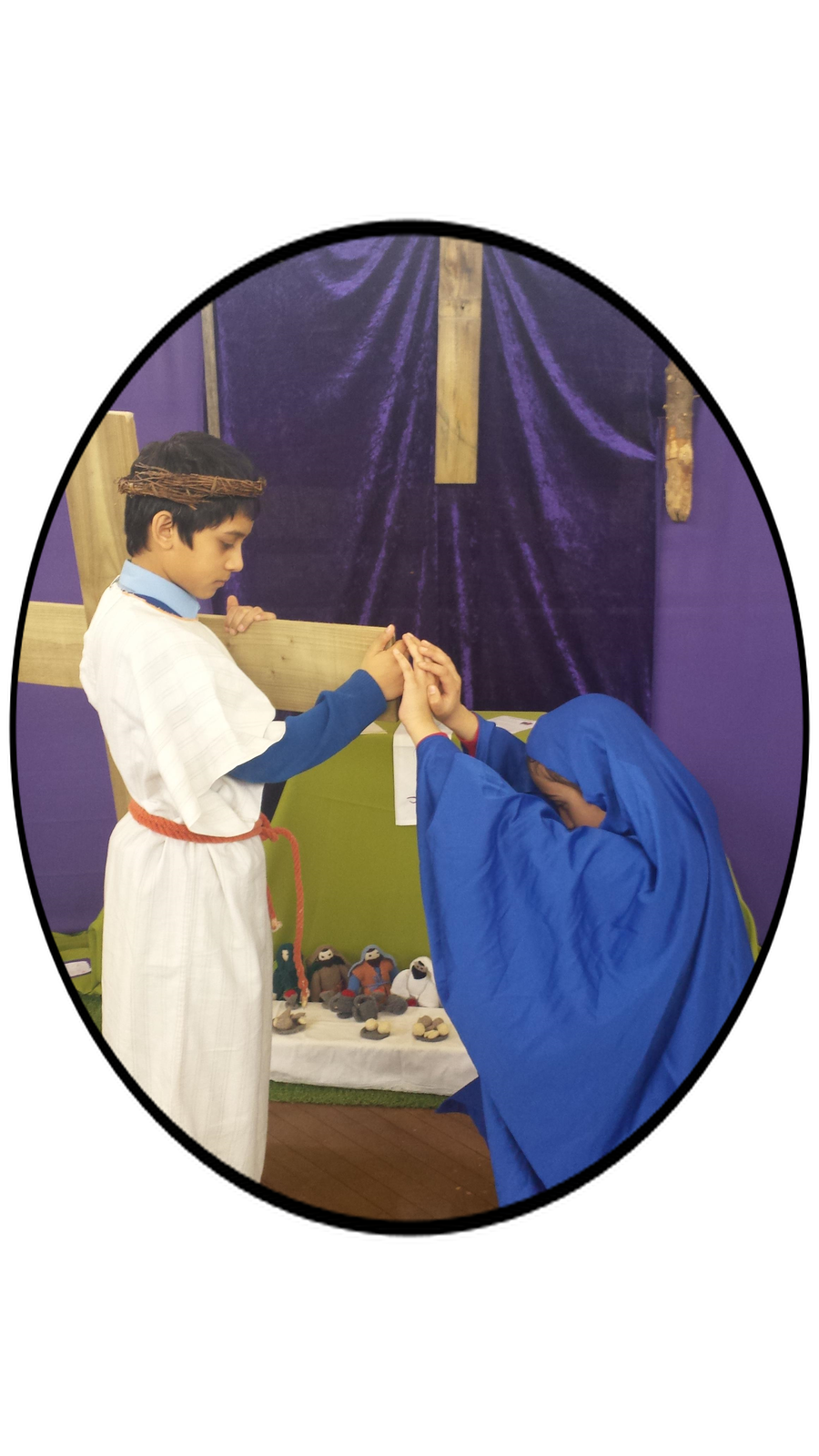 Other Faiths Week
Why teach about other Faiths or Religions?
An appreciation of other faiths and an engagement with them is a constitutive part of Catholic faith – not something added on to a Catholic Religious syllabus or some such concession made by a Catholic School to an atmosphere of goodwill.
It is imperative that (a) every Catholic school address the questions raised by the presence in society of persons of other faiths; (b) every Catholic school take on the responsibility of helping all pupils, not only its Catholic students, to integrate faith and life.
'In Nostra Aetate (In our time) the Declaration on the Catholic Church's Relation to non-Christian Religions produced at the Second Vatican Council it outlines that;
"The Catholic Church rejects nothing of those things which are true and holy in these religions. It regards with respect those ways of acting and living and those precepts and teachings which, though often at variance with what it holds and expounds, frequently reflect a ray of truth which enlightens everyone."
Other faiths are taught for one week annually on rotation. We want our children to have a rich and varied experience so visitors and visits to other places of worship are welcomed and encouraged.
Summer 2016 - Sikhism Planner
AGE

GROUP

THEME

TOPIC

LEARNING OUTCOMES

LOOK DISCOVER RESPECT

Early Years

Nursery/Rec

Special Days

Guru Nanak's birthday

We all celebrate

Guru Nanak's

Birthday Celebrations

Guru Nanak's birthday is important to Sikhs.

Year 1

Naming Ceremony's

How Sikh children are named.

Names are important

Meaning of Sikh names Singh-Lion

Kaur-Princess

Recall what happens when a child is named in the Gurdwara.

Year 2

Stories

The Milk and Jasmine Flower

Everyone is equal

There is always room in the world for goodness

Sikhs believe that everyone is special and equal before God

Year 3

Places for Worship

Gurdwara/Langar

There are special places

Gurdwara/Langar

The importance of the Gurdwara/ Langar as a place of worship.

Year 4

Holy Books

Guru Granth Sahib

Books are important

Guru Granth Sahib

The importance of the Guru Granth Sahib as a sacred book that contains song of Guru Nanak.

Year 5

Beliefs and Festivals

Sikh festival Vaisakhi

Stand up for your belief's

Panj Piare

Amrit ceremony

Respect for the beliefs of Sikh's

Year 6

Belonging and Values

The 5 k's

Understand that the 5k's are symbols of the Khalsa

Khalsa

The 5 k's

Sikhs display their commitment to their beliefs by wearing the Sikh articles of faith