Mini Vinnies- Society of St Vincent de Paul
'Mini Vinnies' are children aged between 7 to 11 (or younger) who, with the permission of their parents and the support of their Schools, are encouraged to embark on their first steps as possible 'Vincentians for life'.
Those wishing to become a Mini Vinnie are invited to apply in school and state how they would carry out good deeds in the community.
We were visited by Mrs Kath Altham from the St Vincent de Paul Society who took part in our Commissioning ceremony of our first ever Mini Vinnie group on Thursday 24th March 2015. Mrs Altham presented each child with a certificate and badge and welcomed them to the SVP.
Mini Vinnies is about doing good works in the community. The Vinnies model of 'See, Think, Do'* is a great way to get young people thinking and talking about their spirituality; by connecting their beliefs and values with service activities and issues in their community, they can help to make their faith real, meaningful and relevant.
'Our Mini Vinnies' group will meet once a week during lunchtime and are always busy planning on how they can reach out to the people in need in our community. Over the past few years our dedicated Mini Vinnies have organised different fundraising events to raise money for The Good Shepherd Appeal during Lent and have collected Food for the Bradford Food Bank.
In school they help to lead Collective Worship and represent the school at Diocesan events.
The 2017-18 Mini Vinnies' first project was to make 'welcome packs' for a group of people who are homeless, who stayed in our parish in the week leading up to Christmas Day.
Each pack contained a selection of toiletries, which Years 1-6 were involved in donating. Included in the pack were: a toothbrush, toothpaste, a bar of soap, face cloth, deodorant and a packet of tissues. The pupils were very generous with their donations and for that the Mini Vinnies and parish are very grateful.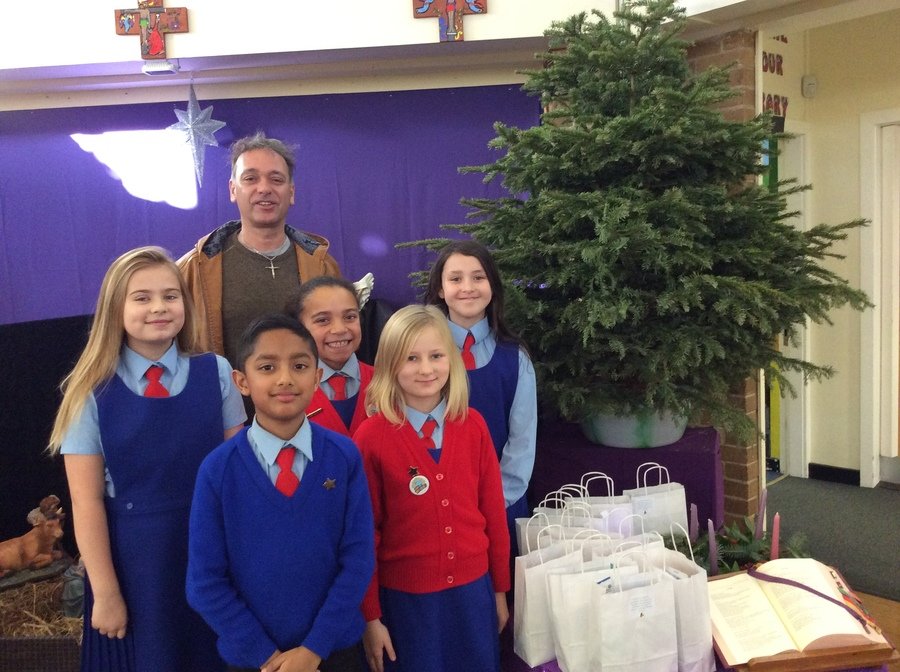 Mini Vinnies and the Friars of the Renewal
In January, we were visited by Brother Benedict from the Franciscan Friars of the Renewal. Brother Benedict had been invited by the Mini Vinnie's to come and to talk to the children about the life of St Francis and the work of the Friars in Bradford. In 2005 the Friars moved to Bradford to serve the homeless and destitute of the city and to work for the renewal of the Catholic Faith throughout the Diocese. Brother Benedict went on to explain that the Friars run a soup kitchen called Open Doors and feeds up to 200 people every week, relying solely on donations for its provision. The children got the opportunity to ask him some thoughtful questions such as, 'Why did you become a Friar?' and 'Who inspired you?' The Mini Vinnie's met with Brother Benedict after the Worship to look at ways our school could support the Friars and were issued with a warm invitation to visit the Friary in the near future.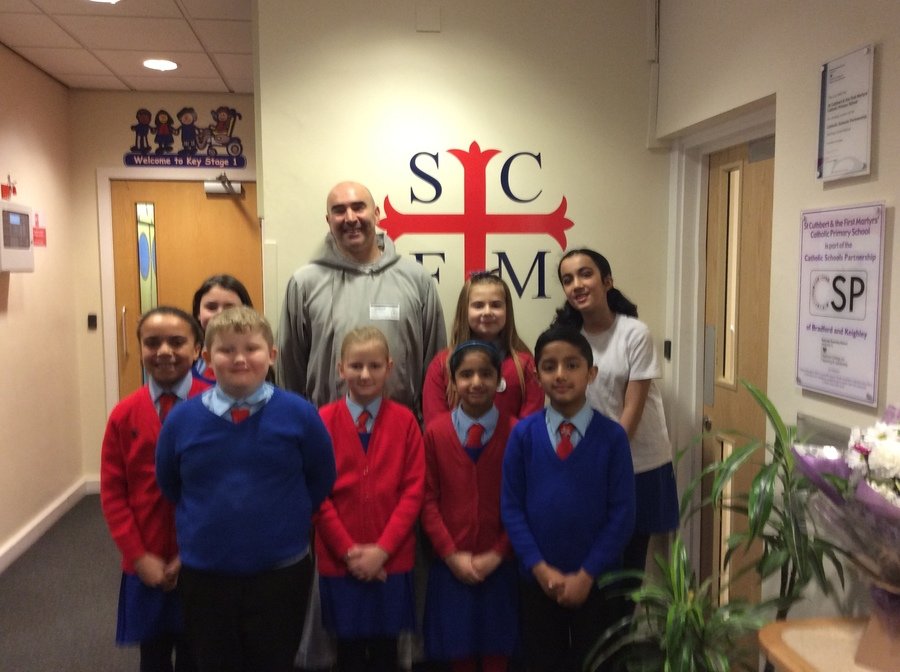 Welcome to the Mini Vinnies 2018/2019
Welcome to the current Mini Vinnies team of 2018/2019. Find below the power point presentation our amazing group created and shared with the whole of the school on Wednesday 13th February 2019.
Our previous projects included:
Donated wheelbarrow at the allotment.( Ejo and Millie)
In October 2019 the Mini Vinnies and Mrs Bamford went out to the local allotment where we met Mrs Somerville and some of the ladies that worked there. The Mini Vinnies were able to look around the allotment and find out how important the groups were in helping them make friendships. As we are a caring group we take positive steps to be welcoming and inclusive to new arrivals. As a community we asked the school for support to help donate a much needed wheelbarrow to the lovely ladies at the local allotment.
Popcorn Tuesday! ( Annie and Clare)
Popcorn Tuesday was a project that we started to raise funds for the Mini Vinnies. As the popcorn cost just 50p and because we did it nearly every week, we were able to make a lot of money. At the end of the activity we had raised just over £200!
Homeless packs (Omharey and Paulina)
We had a Mini Vinnie project to help the homeless people. We asked each class to bring in some items such as toothbrushes,body wash and many other toiletry products. Then we put all the items together to make a pack to give to the Innchurches group so they could gift it to the homeless people who stayed at the Church during winter. We tried our best to make these welcome packs the best Christmas present for all these people, we made 25!
Macmillan Cancer Support (Ishaaq and Millie)
At the Macmillan coffee morning organised by Mrs Wilson we invited visitors, parents pupils and staff to come and enjoy tea, coffee and delicious buns! It was a successful project as we raised over £300!
Future Projects
Our future project is to collect donations of food items for our local food bank. Details will follow after the holiday!
We would like to say a big thank you to all our school community for being so generous and helping us achieve our goals!
Sign2Sing
On Wednesday 8th February, Year 1 to Year 6 held a fundraising event for the charity SignHealth. We have been getting sponsored for learning the Sign2Sing song, Together. Have a look at our fab performance below!
Converting media.
(Media will continue converting in the background)