Welcome to Year 4!
Miss McAlpine,
Mrs Bolland,
Mrs Barker and

Mrs Lyman
As we have done two terms of swimming this year, there are no more lessons until Year 5.
P.E will be on

Thursdays and Fridays

.
Please make sure no jewellery is worn on these days, and that long hair is put up.

Let's go fly a kite!
(Part two!)
During the last week of half term, we finally made and completed our own kites! It was very exciting to see our kites go from a plan on a piece of paper and turn into something we could hold!
As the weather on the last day of term wasn't kite-friendly, we haven't tested them outside yet. Hopefully, we will get some good kite-flying weather during the first week back!
See the pictures of the kites below. I'm sure you'll see lots of proud faces too!
Year 4 Worship
On Thursday 19th January, Year 4 presented a worship to the school about the feast of St Paul's Conversion. We showed the school St Paul's story and talked about persecution. We reminded the school that being different is something to be celebrated and that we can work together to make the world even more beautiful. As a class, we had created some 'stained glass' artwork to present to each year group. The different colours behind the dove represent the diversity of our school, and show how difference can create something spectacular.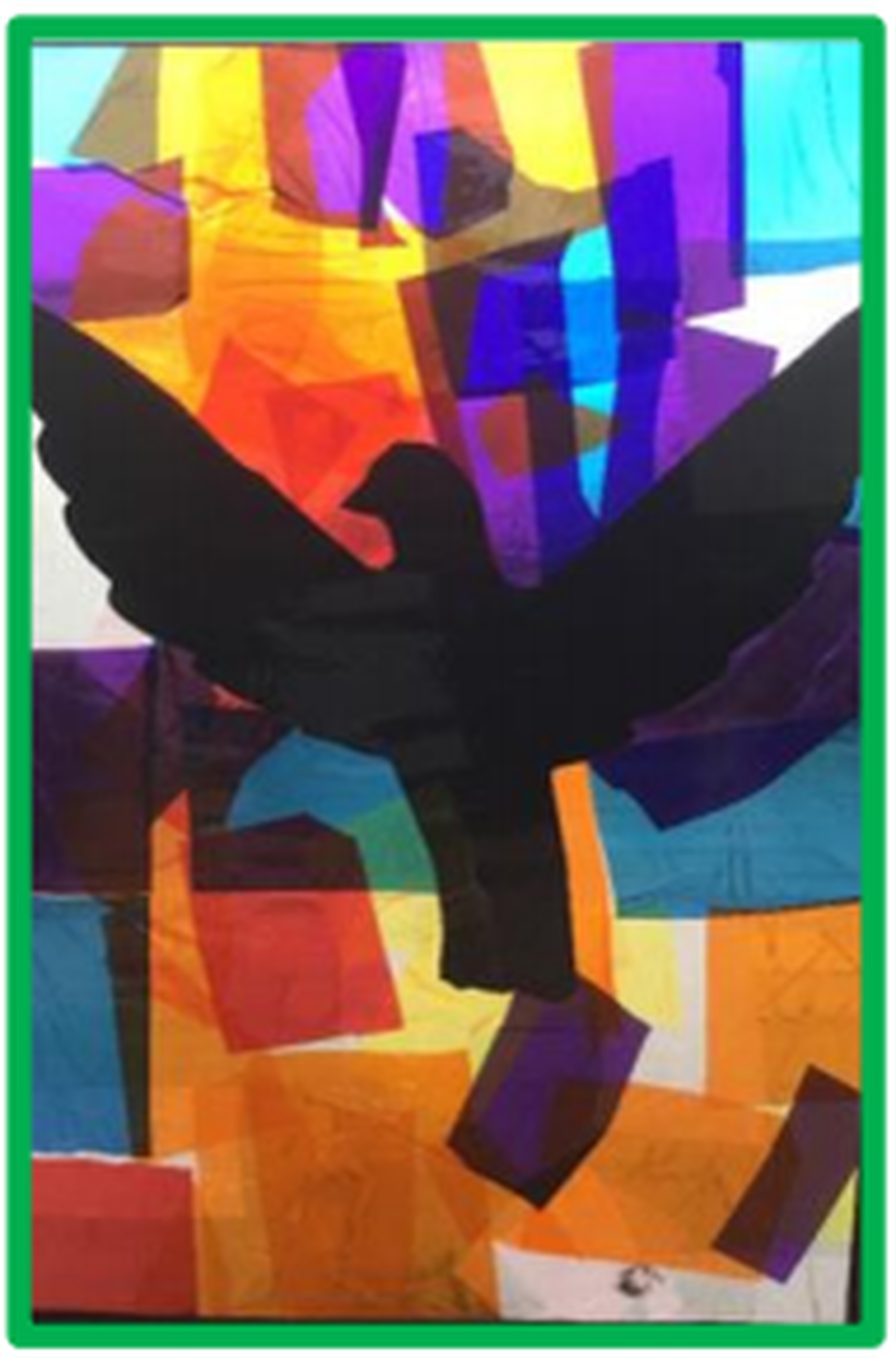 Let's go fly a kite!
This half term in Design and Technology, Year 4 is learning about how kites are made, and are going to design and make a kite themed around the 2018 Winter Olympics!
So far we have investigated different kite shapes, and have made a small 'gliding kite' to test how they fly!
We had lots of fun running around the playground getting the kites to glide - which most did!
Ancient Egyptians
We have been learning about the Ancient Egyptians this half term, and have had a lot of fun so far!
On Friday 18th November, we learnt about how and why the Ancient Egyptians mummified people. The class were thrilled to find out they could turn one of the people on their table into a mummy - although not quite in the same way!
Take a look at some of the pictures of the fun.
Electricity workshop day
On Tuesday 18th October, Year 4 had a visitor into school. Mr B taught us all about the history of electricity, from 600 BC when static electricity was first noticed, to Abbe Nollet, in 1746, who electrocuted 200 monks in order to test how fast electricity travelled! We finally finished our whistle stop tour with Thomas Edison inventing the light bulb, Alexander Graham Bell inventing the telephone, and Apple releasing the iPad!
After break, we learnt about the way people communicated during the Second World War using electricity. We learnt how to understand Morse code, and even decoded a message using a (very simple) enigma machine!
In the afternoon, we then came on to the circuit board challenges. We were given a list of challenges to complete with different parts of the circuit, including creating and playing a copper wire game, and creating our own Morse code machine!
We had a fantastic and exciting day – what a fantastic way to finish our topic of Electricity!