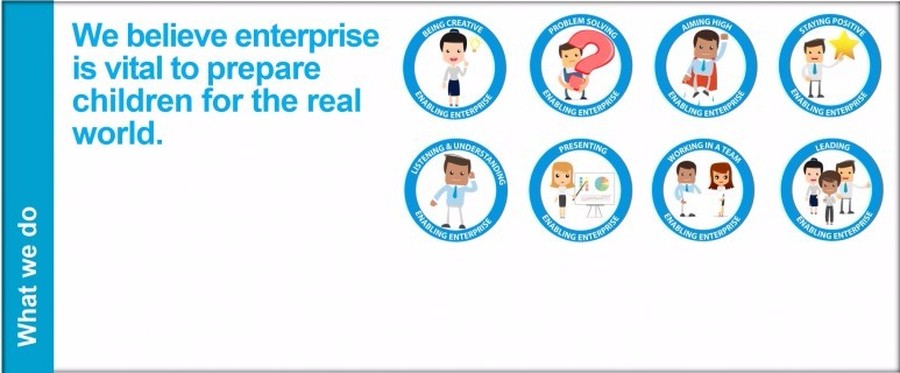 Challenge Day - Operation Moonbase
The children undertook a Mission from the Enabling Enterprise Team named Operation Moonbase. Across the school, from Nursery to Year 6, children were set the task of creating a new society on Utopia through a series of challenges. Throughout the day, they were being judged and supported in developing the 8 key skills: Aiming high, working as a team, sharing ideas, using imagination, leading, problem solving, listening carefully and staying positive. To create their society on Utopia they had to select a crew, design the perfect animal, choose and design buildings and then pitch their designs. Each class selected a winning team based not solely on their design but through skill progression throughout the day. The day also featured lots of time for the children to reflect on their skills and how they can use these more effectively. During Friday's Celebration Worship the winning teams pitched their projects for our Whole School Intergalactic Trade Fair. Each year group's winning team confidently presented their ideas for a new world on Utopia to the whole school and parents. Mrs Winnery had the hard task of choosing an overall winning team. She was very impressed with all the designs and the thinking that went behind the ideas. The overall winning team went to Year 3 for their explanation on Dams and Hydro Electricity!
Business Trip 1 - Brewin Dolphin
As well as the Challenge Day, as part of the Enabling Enterprise Project, the children will also be participating in buisness trips. The first saw Year 6 visit Brewin Dolphin in Leeds. Brewin Dolphin are one of the UK's leading wealth managers, a FTSE 250 company, who offer personalised wealth management services working for individuals, charities and pension funds. An opportunity to visit such a prestigious company allowed them to make the link between the enterprise skills they are developing in the classroom and how they are used in the working world.
Throughout the day, Year 6 had the chance to work with volunteers from the business including the Director as well as taking part in a game to give a flavour of the industry. They were given £25,000 to invest for a Dr Taylor and by analysing the market they had to decide which companies were best. Finally, they bravely presented their 'new company' and any profit to the volunteers in the hope of being hired. It was clear how much the children enjoyed the day and really flourished with some fantastic feedback from the company of how polite and hardworking the class are. Also £900,000+ profit for the day is not bad going!!
Look out for our trip to Addleshaw Goddard at the end of June.
Lesson Time Projects
Coming soon.....